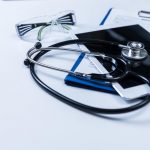 Earlier this year I explored whether the healthcare industry had the relevant skills to adopt and benefit from the latest wave of intelligent technologies.  The slow pace of adoption highlights the challenges that exist in the industry.  It's a challenge that a new report by Accenture suggests is being met head on however.
It does say however that healthcare organizations do require new capabilities to ensure that these new technologies are adopted not only effectively but also responsibly.
Dipping toes into the water
The report found that 77% of healthcare executives planned to invest in technologies such as smart sensors in the coming year, which was the highest of all industries surveyed by Accenture.  What's more, 53% said they plan to invest in AI, with 86% saying that data is being used to drive automated decision-making.
Despite this apparent movement into new ways of working, 81% of executives weren't prepared for the societal and liability issues that might require them to explain their AI-based decisions.  As such, many are looking to establish internal ethical standards for their AI work.
With so much resting on the accuracy of data, it's vital that it is as free from bias and manipulation as possible.  Some 86% of executives have still not invested in the data science capabilities to ensure that the data they have can be relied upon.
"Intelligent technologies, such as AI, are enabling health organizations to evolve at speed, collaborate with other entities and create deeper, more meaningful relationships with patients across various care settings," the authors say. "As this paradigm-shifting technology evolves – making business more dynamic than ever before – organizations will remain responsible for demonstrating data stewardship and designing systems with trust and transparency to bolster the societal benefits of these technologies."
Evidence of impact
Unfortunately, a report published earlier this year by the King's Fund found that healthcare generally wasn't very good at absorbing new innovation.
The report suggests that there is no shortage of entrepreneurship in the NHS, but that transferring even simple innovations from one NHS organization to another is incredibly difficult.
The report suggests that traditional approaches, including publicising them at conferences and producing toolkits, are not working, and instead advocates the need for more manpower to help do the vital work of spreading new innovation.
This manpower should consist of teams built around the innovators themselves to help with things like marketing, change management and investment appraisal. Suffice to say, the resourcing for such teams is not present in the NHS today, with just 0.1% of total NHS spending devoted to the adoption of innovation.
"As long as the NHS sets aside less than 0.1 per cent of available resources for the adoption and spread of innovation, a small fraction of the funds available for innovation itself, the NHS's operating units will struggle to adopt large numbers of innovations and rapidly improve productivity," the report says.
So whilst executives appear to be making the right noises around technology the tangible evidence of impact seems to be rather thin on the ground.