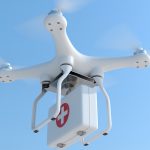 Using drones for delivering items has been one of those use cases that has sounded promising for some time without ever really taking off in practice.  One of the more fascinating applications is in the delivery of medical supplies, often to locations that are not well served by traditional infrastructure.
It's a use case that I explored a few years ago, when a study from Johns Hopkins highlighted the possible benefits of blood samples being transported via drones.
The results were positive, suggesting that there is significant potential for drones to transport blood and other samples across reasonable distances.  Suffice to say however, it's a promise that is still to be realized.
Setting up drone operation centers
A recent study from researchers at Texas A&M University explores some of the costs and logistical issues involved in setting up drone operation centers for such work.  The work aims to provide a stepping stone from the theoretical exploration of delivery drones to some of the practicalities of making it reality.
There have been various attempts to introduce technologies such as telemedicine into healthcare to help reduce some of the barriers that prevent those in rural areas from accessing good quality care, but there are still issues surrounding the supply of medication and test kits.
"Drones could help overcome some of these issues by allowing the transportation of medicines and test kits," the researchers say. "By handling these important tasks that do not require face-to-face interaction, drone use would allow home health care workers to concentrate more on those patients in need of hands-on care."
To help progress the concept, the team developed two models, the first of which was to determine the optimal number of drone center locations required, and the second to determine how to actually perform pickup and delivery tasks via drones in the most efficient way.
The first model used the number and location of patients together with the maximum range of drones today, with the ultimate aim of providing optimum coverage at the lowest initial cost.  By contrast, the second model examined the best routes for the drones to take to reach patients either to drop off or pick up medicines and test kits.
Both models were tested using a number of simulations that were based upon real world data from Robertson and Milam counties in Texas.  This analysis suggests that the models were effective in determining the best locations for a drone center, the number of drones at each center and the delivery routes to reach patients.
"These models serve as a first step in developing methods for creating and operating drone centers to serve rural chronic disease patients," the team say. "Future research is needed to expand on this work, with models including effects of different package weights on drone battery consumption and flight time and ways to prioritize certain patients for delivery and pickup."
As chronic care becomes increasingly important, healthcare providers are likely to require a range of new technologies to ensure that care can be provided equally to those in rural as well as urban areas.  This work is an interesting stepping stone in the exploration of the role drones might play in that.