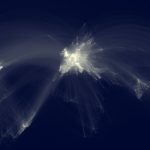 Last year I wrote about a paper that documented the value of open data released by Transport for London (TfL).  The analysis revealed that the opening up of data by TfL has generated approximately £130 million for the London economy.
It's perhaps not too surprising that the British government are aiming to open up more data to be developed upon.  They recently announced the release of key parts of the Ordnance Survey MasterMap to the public, with initial estimates that this move will boost the UK economy by a suspiciously similar £130m per year.
Geospatial data
The project is one of the first undertaken by the new Geospatial Commission, whose aim is to make the UK a world leader in location data.
"Ordnance Survey holds the most accurate and comprehensive set of location data for Great Britain, making public sector services work more efficiently and helping to build innovative businesses across every sector of the economy," the team say. "Since its launch in 2001, OS MasterMap has been one of the most comprehensive and detailed geospatial reference datasets in the world. This latest development is another step on Ordnance Survey's open data journey. We're looking forward to supporting the Geospatial Commission in making this data more accessible and more widely used."
A recent report, by the Lisbon Council, examines some of the issues to be overcome if data is to be liberalized, and Europe is to lead the world in the new data economy. It analyzes a range of proposals for facilitating data flow, before outlining a roadmap for achieving the free movement of data throughout Europe.
The report highlights the importance of data, especially in a new economy that is based upon artificial intelligence, machine learning and other high-performance-computer-driven processes.
"Put simply, we need a new framework for data access, use, reuse, storing and mining that looks at – and adequately answers – the very real challenges of the future," the authors say.
This was followed by a second study, published last year, from the European Data Portal that examined the level of 'open data maturity' across the EU and Norway, Switzerland and Liechtenstein, who are referred to as the EU28+.
The paper reveals that the 31 countries collectively made significant progress between 2015-2016, with an average progression of 28.6% over the year. Whilst this means that most countries have a basic level of open data by now, the report still highlights significant discrepancies between countries.
The release of geospatial data by the UK government is another step in the right direction, and it will be interesting to see what innovations emerge from it.