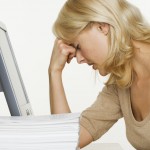 Typically the discussion around the impact of AI technology on the workplace has been framed in terms of the jobs lost by adopting autonomous technology, but it's increasingly likely that jobs might be lost if companies fail to invest in the latest technology.
That's certainly the core finding from the latest report from Unisys, which highlights the risks involved when companies fail to invest in technology.  It suggests that arming employees with the best technology available is key to their overall sense of happiness at work.
The report found that this was not always the case however, with over half of employees regarding their organization as technological laggards, with just 9% believing they were leading the way.  This mattered, as there was a correlation between how employees felt about the technological prowess of their organization, and their likelihood to stick around.
Technology laggards
The biggest source of consternation for workers was with regards to the devices they had to work with, with many workers using their own devices as they were more advanced than those offered by their employer.  Whilst this retained their productivity levels, it nonetheless presented a security risk, as many would download apps not supported by their employer.
"The data show a clear new paradigm in today's U.K. digital workplace: more than one-third of those who work for technology laggards feel like outdated devices are limiting their productivity, with more than half frustrated and many with one eye on the door as a result," the authors say. "Equipping devices with the right applications and productivity tools is critically important to access and engagement."
This matters as most employees felt that poor technology was dragging down their productivity levels, and this frustration was prompting many to look to see if the grass would be greener elsewhere.
This desire for the latest tools applied especially to AI, with many employees regarding it as the emerging technology with the most potential for transforming their workplace.  It is however largely a technology that they are unfamiliar with at the moment.  This lack of awareness can color people's expectations of just what changes might be around the corner however.
"The fear of the unknown is powerful, and that is what these statistics bear out," the authors conclude. "However, those organisations that modernise their technology and business processes in the right way will be best positioned to lead. Coupled with the proper training, automation and intelligence tools can help empower workers by freeing them from tedious tasks so they can deliver better results. We believe AI will enhance their workers, not replace them."