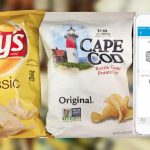 As healthcare providers around the world make the (seemingly glacial) switch towards prevention rather than cure, the onus moves towards helping people to stay healthy for longer.  Behavior change therefore becomes a key part of any intervention, with nowhere more so than in encouraging a healthy diet.
It's perhaps no surprise therefore, that a number of apps have emerged to try and help people do just that.  One of the latest has been developed by researchers at Northwestern University.  The app, known as FoodSwitch, is available on Apple and Google Play, and aims to give users support akin to having a nutritionist in store with you.
"FoodSwitch is unique in that users don't have to hunt for healthier alternatives. They're all listed in the app," the team say.
The service utilizes crowdsourcing to compile information on new and changing foods from across the US.  In total there are some 268,000 products in the database, with real-time information about each.  The idea is that by using the crowd, it allows the database to stay current despite some 20% of products changing each year.
Healthy choices
Users can scan the barcode on an item to see its nutritional values, but also other foods that are similar.  Importantly, it then offers a 5 star rating based upon the healthiness of the item.  By using color coding, the app aims to make it easy to visually see the health of each item.
The app also aims to make it relatively easy to compare products in the same category, such as regular and fat-free yogurts to ascertain which is healthier.
The crowd are deployed to ensure that the database is kept as current as possible.  For instance, if a barcode is scanned that isn't in the database, the user is prompted to upload a photo of the nutrition panel on the product so that it can be added to the database.  The developers believe this will allow them to maintain a larger database, especially of speciality products from niche retailers.
"Our food supply is a big system that changes constantly," they say. "FoodSwitch is a really good way to capture that change in real time because people are so interested in food. We think users will want to participate in building the largest, most up-to-date database."
The app has already launched in a number of countries, including the UK, China and Australia, and now plans to launch in the US.  The scale of the American market presents particular challenges, but also opportunities for the model.  Not only is it a large food marketplace, but the diversity of the population ensures a wide variety of products are represented.
FoodSwitch is one of a growing number of apps that aim to make it easier for people to make healthier choices.  As with so many apps that strive to modify our behaviors, the challenge you suspect is to reach those who are disenfranchised from traditional efforts and therefore very hard to reach.  Time will tell whether FoodSwitch and its peers are effective at doing that, but it's pleasing to see a growing number of services that are making the effort.