If you haven't realised by now, I'm a complete live blog fan boy and have used them a lot over the past few years, whether it's to conduct a live AMA style interview with leading management authors or covering events live.  They're a great way to bring a sense of interactivity to your blog.
So it's kinda cool that Automattic, the guys behind the hosted WordPress.com service, has launched a new live-blog plugin for the software.  It's called Liveblog and it lets you turn any post you want, yes even old ones, into a live blog with a single click of your mouse.
Once you've selected the live blog option, the cool thing is that you can then update that post from the front-end part of your site.  You don't need to play around in the admin dashboard.  Readers will be served updates without having to update the page, and you can easily drag and drop photos into the live blog.
You can see below how the app looks when you're the writer: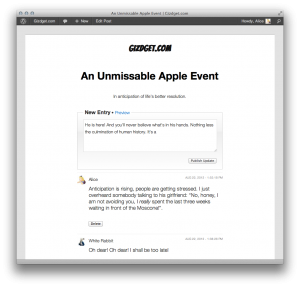 And when you're tuning in as a reader updates appear like so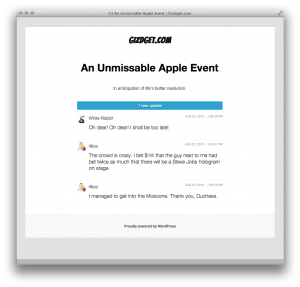 Now suffice to say it doesn't come with the level of functionality provided by something like CoverItLive, and as yet I'm not sure if there is the ability for people to interact with the live blog, but it's usually the way with WordPress plugins that they improve over time so as a first step this is a very welcome one indeed.
Here's a video where they describe the app in more detail