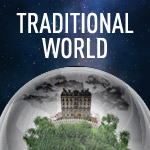 This is a guest post by Sylvia Jensen. Sylvia heads up Eloqua's marketing in Europe, the Middle East and Africa, working with tech companies like Oracle, WebEx, Palm and Coremetrics. You can follow her at www.twitter.com/smajensen
Has the Traditional World of marketing seen its best days? As the Internet age gains pace, and tried-and-tested techniques start to fail, are marketers looking at the end of life as we know it?
Even though it's been home for a long time and the annals show that there was a time in the distant past when the Traditional World of marketing was a happy and successful place, it's time to face facts. That's history and things haven't been good for ages.
Is the world going mad?
The golden days when people sat through 30-second TV ads, and then went and bought as they were told, are far behind us. Nowadays, we Google everything. But although 78% of internet users now do product research online, 74% of marketers don't measure the effectiveness of their SEO in generating leads. This is even though 54% of them said that SEO was the sole reason behind their digital marketing. Is the world going mad?
Sales revenues are falling and marketing campaigns are not delivering. Marketers say that:
They have no way of lead scoring
They don't have lead nurturing programmes in place
There's no alignment between marketing and sales teams
There's a complete lack of measurement across all their activities.
It seems that traditional marketing methods are floundering in the face of the new, web-dominated environment. As 2012 draws to a close, the End of the Traditional World may be upon us.
The Modern World of Sales and Marketing
Change can be a scary thing, and making the exodus from our comfortable world where we know how everything is done won't be easy. But businesses who do manage to adjust to the new environment may be the ones to 'inherit the Earth.'
One example is the move many marketers are making towards streamlined measurement and metrics to keep track of how they are doing. Research has proven that businesses that use revenue performance management in conjunction with marketing automation are the best performing businesses out there.
It's shown that these companies enjoy much higher win rates (40% of sales-qualified leads closed vs. 25% for average companies) and that their sales and marketing teams work as one, passing leads back and forth until they are ready to convert.
The Brave New World is coming, whether we like it or not. So how do we learn to survive it?
Join Eloqua and a host of other marketing organisations on an animated mission through the marketing cosmos to discover new lead nurturing methods and uncover the future of marketing.