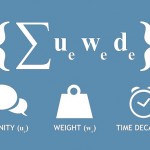 Dallas Maverick's owner Mark Cuban hit the news over the weekend with a complaint that the new EdgeRank algorithm on Facebook has meant he can't communicate to all of the people that follow his Pages.  Now it's up for debate whether fans want to read all of the things he has shared, but nevertheless it has caused quite a bit of debate in the industry.
So what exactly determines whether your update appears in the newsfeed of your fans, and have Facebook made it harder in order to try and sell sponsored posts?
Lets start with that latter point.  Obviously it's going to be pretty hard to prove one way or another whether Facebook have been shifting the goal posts in order to make more money and arrest the decline of their share price.  What perhaps will help to illuminate this however is an understanding of how updates are judged in terms of whether they appear on a newsfeed or not.  This comes down to four distinct factors.
The four factors that determine news feed appearances
The four factors that determine whether a Page will appear in your feed are:
If a fan interacted with posts before, (i.e., if you like every post from a Page you're more likely to see them in future).
Other people's reaction to the post, (i.e., if other people complain or hide a post you're not likely to get them either).
How you responded to posts of that type previously, (i.e., if you like photos or videos from a Page previously then you're more likely to get future photos or videos).
If that specific post has received complaints by other users who have seen it, or the Page who posted it has received lots of complaints in the past, you'll be less likely to see that post.
So in other words, the more engaging your content is, the more likely it will appear in peoples newsfeeds.  Of course it's far from new that people are quick to blame others for a slump in performance, it's something that search marketers have been doing for years, but if you want to do better on Facebook, the best person to look to is the person in the mirror.  Create great content that helps your fans and you'll still be able to do just fine with your Page.