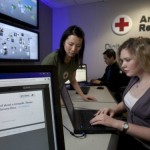 Social media can often fall foul of the trivial and uninspiring, with people using social tools to poke and to troll.  It's these seemingly worthless activities that give rise to the impression that social media is a time sink that offers little of benefit in a professional context.
There's also an impression that even when social media is used for worthy endeavours that it's used in a rather shallow way.  Slacktavism as a term is one that's arisen due to the rise in people apparently supporting worthy causes via their social media accounts.  Whilst the support is no doubt very nice, liking a status update doesn't really do much to further the cause of mankind.
It doesn't have to be that way however.  For instance researchers at Kansas State University are looking at using social media to both understand the spread of illness, and then to help stop that spread.  They are studying whether a status update from a prominent figure is as beneficial to halting the spread of illness as more traditional mechanisms such as flu-shots or hygiene best practice advice.
"Infectious diseases are a serious problem and historically have been a major cause of death," said Faryad Sahneh, Kansas State University doctoral candidate in electrical engineering who is modeling the spread of epidemics in an effort to reduce them. "During the last decades there has been a huge advancement in medication and vaccination, which has helped save many peoples' lives. But now there also has been a revolution in communication and information technology that we think could be used to develop an even more robust preventative society against infectious diseases."
It's an approach that is shared in a new report by the UK government's Foresight team into disaster risk reduction.  It talks about the important role social media can play in both detecting the spread of disease and also in circulating mitigation messages in the event of disaster.
For instance Twitter has been analysed to determine the spread of H1N1, with the findings from this analysis faring well when compared with official data from the Health Protection Agency.  Likewise, Google have built a flu map using analysis of the searches people make during an outbreak.
The challenge is in both ensuring that the data collected is accurate, and having sufficiently robust technology to manage the process.  For instance 5,000 tweets were generated every second during the Tohoku tsunami.
These are challenges that the risk reduction industry are tackling head on though and there will undoubtedly be a positive role for social media in both the detection and in the propagation of response to outbreaks.  I've included the disaster risk reduction report below, and it makes interesting reading for anyone looking for more socially worthwhile uses of social media.