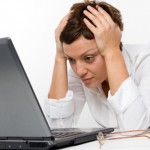 It's estimated that around 300 billion emails are sent each day.  Even assuming that a large chunk of those are likely to be spam messages, that's still a whole lot of emails zipping about.  It's fair to say therefore that despite the rise of social networks, email remains the predominant form of communication, especially in corporate environments.
Could you live without email for a day?
A movement started last year to stop our addiction to email.  No Email Day ran on the 12th December with the aim of asking us to stop using email for one day.  The movement's founder Paul Lancaster explains
"This would involve switching off your email completely (or simply ignoring it) so you can focus completely on your 'real work' or 'art' that is currently going undone.

"If you do need to contact someone on this day, emails should be strictly off limits – replaced instead by real life, face to face interaction, picking up the phone or perhaps even writing a letter (remember those?) Better still if you can spend time away from work to be inspired and re-connect with the offline world."
You can see more about the idea behind No Email Day in the slides below.  Could you live without email for a day?  I don't think I could.