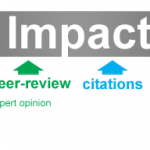 I'm currently doing some work for the UK government, and the department I'm helping produce an awful lot of research.  It's usually heavy duty scientific research with dozens of papers commissioned to form the evidence base for the central paper.
Of course not all research has to be so academically virtuous, and producing research is now a central part of the content marketing mix.  This could come in the form of a simple survey of your users, or a more in depth white paper style study into your market.
With so much research being produced, it is therefore crucial to get the measurement of it right.  How exactly can you determine whether your publication has been a success or not?
This blog will outline some of the methods available to you, and will talk about some of the strengths and weaknesses of each approach.
Downloads
This is an easy one and should be top of the list of things you look to measure.  It's very easy to identify how many people are downloading your documents simply by tagging things up accordingly in Google Analytics (or your analytics provider).
Shares
It's relatively easy to track how many times your content has been shared, or alternatively viewed on services such as Slideshare or Scribd.  Most sharing buttons have a feature allowing you to track each time the page has been shared, so it's relatively easy to draw up a dashboard.
Mendeley
Mendeley is a reference manager and social academic network.  It claims to have over 2 million users so is a serious source of academic sharing.  Mendeley users can add papers to their document libraries, and this can then be measured, so you can see how many academics in the Mendeley community are reading your content (or at least intending to read it).  Mendeley claim that there is a strong correlation between their stats and general citation figures, so it's something that is worth reporting on.
Citations
Whereas the previous stats are all alot more current and fresh, citations can take much longer to come in.  After all, by their very nature they require someone to include reference to your work in a paper of their own.  Adding a paper to Google Scholar makes it easy to monitor the number of citations you receive.
Altmetrics
Another tool that has sprung up to service this niche is AltMetrics.  AltMetrics attempts to bring all of these things together and provide you with one distinct measure of your research's success.  This is a tool that's well worth using if research is your end product.