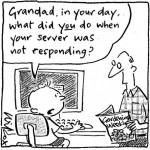 It used to be the case that social media was touted as something that only the young did.  Indeed, a furore erupted last year when a blog was written suggesting that social media professionals should be under a certain age (I think 30 was the cut-off point).  The rationale was that this generation had grown up with social and were therefore best equipped to manage it.
Suffice to say that it generated quite a significant reaction, not least from the more mature amongst us that felt still able to do good things on social despite our thinning hair and predeliction for being in bed by 10 o'clock.
Is there a social generation?
Some new research by the University of Michigan does a pretty good job of debunking this myth.  They were researching the social interactions of adults in their late 30's, or typical Generation X'ers if you will.
They found that in an average month they would engage in around 75 face-to-face conversations with people, but that they would also engage in 74 conversations online, either via email or through social media.
"Given the speed of emerging technologies, it is likely that electronic contacts will continue to grow in the years ahead, eventually exceeding face-to-face interactions," says Jon D. Miller, author of the latest issue of The Generation X Report.
"But the young adults in Generation X are currently maintaining a healthy balance between personal and electronic social networking."
Educated networks
Another interesting point from the study was that those with at least a bachelors degree tended to have larger social networks.  What's more, those without a degree seemed to rely more on traditional personal (ie offline) networks and less on online networking.
Somewhat surprisingly, males reported more personal contacts than females in the course of a typical month—86 compared to 65. This difference reflects the larger number of hours men reported spending at work, Miller says. Young women, on the other hand, were slightly more likely to visit family and friends, attend meetings in the community, and do volunteer work.
The online networking breakdown was equally interesting.  Overall, in the course of a typical month, participants reported sending 39 nonwork emails, using Facebook nearly 23 times, using Twitter four times, Skyping once, and sending digital pictures seven times.
"This is the first generation of Americans to reach adulthood at the beginning of the electronic era," Miller says. "So it's understandable that they should show a substantial mix of traditional and electronic networking as they build and maintain the social capital that will help to carry them through their lives."