Over the past week or so, Fast Company have been running a series of articles on the virtues of unplugging from the digital world that is so all-encompassing.  Whilst much of this revolves around the importance of switching off to the sleep process, there is also much to be said for having a strong period of uninterrupted time during our work day to simply think or get things done.  Much as I love the web and all it provides, the constant flux of new stimuli does little to help our powers of concentration.
It's well-known for instance that Bill Gates would regularly take an extended break and switch off from the digital world.  He'd use the time to read extensively and let his mind naturally wander.  The freedom to explore things outside of his usual work schedule would provide some fascinating insights.
Going out on the bike is my own escape from the digital world.  Being out in the fresh air and countryside for a few hours is a wonderful chance to forget everything else, to take in some great views, and of course to get the natural buzz that comes from exercising.
Each year that escape is taken a step further with a pilgrimage to the mountains somewhere in Europe.  This year I'll be returning to the Dolomites, with a week of riding from our base in Corvara culminating in competing in the Maratona dles Dolomites in a weeks time.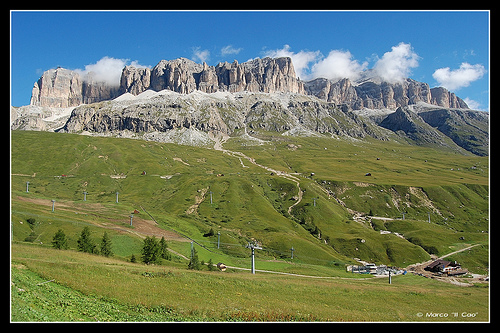 In my humble opinion, it is unquestionably one of the most beautiful places on Earth, and despite a slightly iffy weather forecast it's a week I'm very much looking forward to.
As it is a week of being unplugged from the digital world however, this will be the last post I'll make until I return on the 1st July.  Hopefully you'll manage to pass the time ok without updates on some of the fun things that are happening in the social world.
Do feel free to leave a comment on how you personally unplug from the net (just don't expect me to reply 🙂 )