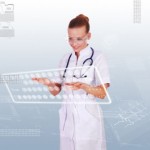 With my partner firmly ensconced in the UK's National Health Service (NHS), I have more than a passing interest in how the organisation is run, and of course in particular the various social and innovation projects they undertake.
One thing that is noticeable is the sheer volume of initiatives that are undertaken.  Many accusations are leveled at the NHS, and an organisation of that size will no doubt have a degree of bloat and bureaucracy about it, but there are no end of efforts to encourage innovation and collaboration amongst its employees.
The latest such initiative is a crowdsourcing effort called NHS Change Day.  Held on the 3rd March 2014, the project encourages people to use that day to make a single pledge to do things better.  Big or small, internal or external, all are encouraged.  Hopefully the website team will use the day to improve the site as it's not particularly clear what the day is about or how to get involved (for instance, the top navigation doesn't do anything at all, whilst the page for NHS radicals is identical to the homepage – ugh!!)
Anyway, gripe aside, the initiative aims to provide the spark of improvement.  Obviously they don't want people just to improve things on one day but for it to be a catalyst to constant improvement.  Central to this seems to be the NHS School for Radicals.  As before, I can't seem to find out much about the project because the website is so poor, but they have produced the video embedded below.
Alas, that seems to be very much of the same school as the website, with a few quotes interspersed amongst nice music and very little information on what the school is about.  What's more, the url included at the end of the video takes you to the homepage of the website, which also tells you nothing about what this school is.  There's not even any mention of the school on Google, so the all seeing oracle is no help either.
As I said at the start, with my partner working in the NHS, I want it to be great, and they do seem to be trying really hard to do the right things, but this is all incredibly frustrating.  As regular readers will know, I'm firmly in favour of using social tools to solicit insights from wherever they may come, but it seems that this initiative is failing with even the basics.
For instance, despite requests for information via Twitter, YouTube and email, I've yet to receive anything back from the project team.  I'm talking a lack of basic receipt of request style communication, let alone any of the information I wanted to help promote the project better.  That my better half has not heard anything about the project either, be that through work or through college and it seems a real missed opportunity.