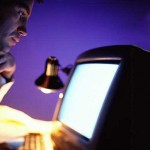 With the rise of social networks it has become easier than ever to dig beneath the veneer of a CV and learn a whole lot about a job candidate during the recruitment process.  An entire industry has emerged around this to help and advise individuals on how they can manage their personal brands online.
I wrote recently about the potential dark side of this trend however, with research suggesting that recruiters are using the data they mine from social media profiles to discriminate against candidates from certain minority groups.
Aside from hampering your attempts to get the finest talent into your organisation, a new study by North Carolina State University looks at how employees respond to having their profiles screened by their employer.  It showed that having employers snoop around your profile was not surprisingly putting a lot of candidates off working there.
"The recruiting and selection process is your first indication of how you'll be treated by a prospective employer," says Will Stoughton, a Ph.D. student at NC State and lead author of a paper describing the research. "If elite job prospects feel their privacy has been compromised, it puts the hiring company at a competitive disadvantage."
The researchers got a few hundred participants to apply for a job online.  They were then told that their Facebook accounts had been checked out for 'professionalism', after which a decision on their recruitment would be made.
Not surprisingly, candidates weren't enthralled by that prospect, with 2/3 of them believing that the employer had invaded their privacy, which in turn reflected badly on the company.  What's more, just under 60% of participants were more likely to take legal action against the company for the invasion of privacy than a control group."This research tells us that companies need to carefully weigh whatever advantage they believe they get from social media screening against the increased likelihood of alienating potential employees," says Dr. Lori Foster Thompson, a professor of psychology at NC State and co-author of the paper. "Elite job prospects have options, and are more likely to steer clear of potential employers they don't trust."