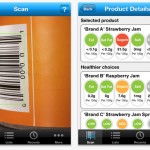 Obesity levels throughout the western world are one of the more peculiar aspects of modern life.  There has never been more information available to people about cooking well, exercising and the nutritional content of our food, yet obesity levels continue to remain at unhealthy levels.
Of course, not all of the information available to us is particularly helpful.  Food labeling for instance, is as comprehensive as it has ever been, yet still remains somewhat baffling for many.  This level of confusion has led to a cohort of mobile apps hitting the market in recent years to help us digest the information about our dietary habits more effectively.
One such is FoodSwitch.  It's a free app that aims to give us advice on the food we eat.  The process is a familiar one for anyone that has used these apps before.  You scan the barcode of the product you're thinking about, but rather than getting nutritional information about that product, or inserting it into a food diary, FoodSwitch will recommend alternative products that are lower in fat and so on.  You can then choose whether to purchase your healthier option, or of course share it with friends and all that.
The app claims to have a database of some 80,000 products stocked in the main UK supermarkets that it can compare on your behalf, giving you real-time alternatives rather than requiring you to flick through options yourself.
The holes in this database can be filled with help from the crowd.  All it takes is for people to upload three photos of missing items to the app, and that product will then be made available to users within no time.
Sadly, the app doesn't come with any of the tracking facilities of something like MyFitnessPal, so you'll probably have to continue using another app if you want to track consumption levels.  Nevertheless, it's a nice app for helping you find healthier alternatives to your regular diet.