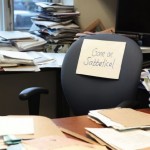 There appears to be a growing appreciation that work is generally not additive, in the sense that the more you do of it, the more productive you become.  This has been emphasized by a plethora of studies highlighting the value of ample sleep, but also in the value inherent in allowing ourselves time to recharge our batteries.
Traditionally, this is usually framed in the sense that we should make sure we're not burning the candle at both ends, as evidenced by the Dutch office whereby furniture is pulled up into the ceiling at 6pm to force people to leave.
At other times, we're encouraged to ensure that we take our full compliment of holiday leave, whilst of course ensuring that we leave our work behind when we do so, to ensure we get a chance to recharge fully.
An option that doesn't garner quite as much attention is the sabbatical.  Probably the most famous exponent of this is Bill Gates, who whilst at Microsoft would regularly take breaks where he would detach from his work and do little but think, read and study.
His so called think weeks were periods of seclusion and isolation from the outside world where he would freshen up his mind.
Whilst the practice has gained some traction amongst the Silicon Valley elite, it's probably not something many in the workforce have a change to enjoy.
An Estonian company are trying to change our mindsets a little.  They support the notion that taking an extended break in the middle of our careers is beneficial, and so have created a new venture called Jobbatical that aims to support just that.
The site provides a marketplace, with companies on one side, and employees on the other, both of whom are looking for short-term working experiences.
Suffice to say, as the site is essentially a job board for people wanting a temporary change of scene, it's not a sabbatical in the traditional sense, but does nonetheless offer people an interesting range of temporary options around the world if they wish to freshen up.
Despite the site being in an early stage, there are already some interesting project opportunities available around the world.  Whilst the initial arrangements are of a temporary nature, there is of course nothing to stop both parties making it more permanent should the arrangement suit.
As such, it's probably more likely to entice people who are looking for a complete break from their current work to re-evaluate things than it is employees encouraged to take a bit of time away from work by their employer.
Nevertheless, it's an interesting concept.  Would you be willing to take a jobbatical?