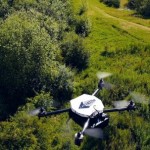 The last year or so has seen a number of innovations arrive in the field of postage and delivery.  For instance, the sharing economy got in on the act with apps such as Friendshippr, which allows you to tap into a network of travelers to get your packages sent overseas.
Arguably the most groundbreaking moves however have come via drone technology.  We've seen the likes of Amazon propose utilizing drones to deliver our orders, and on the heels of this is a new London based service called Bizzby.
They're providing a drone based courier service to offer customers super fast delivery times for individuals.  The drone is capable of carrying packages up to 500g in weight and up to 120″ in length.
The service is accessed via an app whereby customers input the details of their package and the location they want to send it to together with the time and place of collection.
The drone then meets the customer at this location, whereby the package is loaded onto the device and off it goes.  On board sensors are used by the drone to provide safe trafficking of the order, whilst also providing the customer with real-time tracking of the delivery.
Suffice to say, there are numerous hurdles to overcome before this kind of service can become mainstream.  I wrote last year about a medical drone designed by a student in Holland to provide rapid response to cardiac patients.
Just as with that, the main hurdle will be regulatory rather than technological.  It is currently illegal to fly an unmanned aerial vehicle over populated areas in Britain.
The more of these kind of innovations that emerge however, the more likely something will rumble in parliament with regards to regulation.  Bizzby have already petitioned the government to try and press the matter forward, and hopefully when legislation does arrive, it will facilitate further innovations of this nature.
You can check out the Bizzby drone in action via the video below.