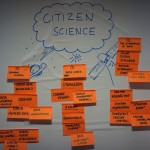 As the citizen science landscape has blossomed, it seems inevitable that the academic community will take a greater interest in the field.  There have already been numerous attempts to understand things like the motivations of participants, how citizen scientists compare with professional scientists, and the tasks that citizen scientists are great at performing.
All quite micro focused.  A pair of reports recently released by the Commons Lab at the Woodrow Wilson Center look at the movement from a more macro perspective.
They're looking at the various ethical, legal and social implications of the various citizen science projects.
The first of the two was produced by Dr Muki Haklay from University College London.  His report looks at the various European citizen science projects to try and gauge whether they can support, or indeed influence, public policy.
The report contains information on how projects can be structured so as to best support policy making.  For instance, strategic partnerships could be forged and guidelines developed around the use of citizen science data.
The legal side of citizen science
The second report tackles citizen science very much from an IP and legal perspective.  Written by Dr Teresa Scassa from the University of Ottawa, the paper looks at the various citizen science projects in existence, and explores whether any of them present particular legal challenges around IP.
The paper provides an interesting comparison of the IP implications of various types of citizen science projects.  These include everything from gathering data to assisting with problem solving.
It's fantastic to see this exciting field analyzed in more depth to allow participants, project sponsors and now policy makers to better understand the potential for societal good.  Both of these reports provide a worthy addition to the rapidly growing canon of research on the topic, and are both very much worth a read.