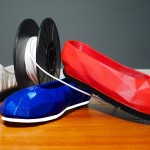 When it comes to innovation in the footwear industry, most of the headlines have been taken up by Zappos, especially after their move towards Holocracy last year.
Whilst their approach to management may be novel however, their service remains fairly standard.  They are, after all, a retailer very much in the mold of their parent Amazon.
A slightly more novel approach to footwear retailing might be coming from a small startup who believe that developments in 3D printing can stop forever the requirement for us to wear in a pair of shoes before they cease to cripple our feet.
Feetz allow customers to order a shoe that is not only personalized to them in terms of design, but also in terms of fit, with the whole process managed by their smartphone app.
The company is currently in beta mode and wants customers to test the service out.  The process seems pretty straightforward.  You sign up and download the app, before then uploading three photos of each foot to it.
These will be used by Feetz to create a model of your feet.  You then get to work on the design of your shoes.  You can customize the look of both the main part of the shoe and its sole.
Once you're done, the design is then sent off to the 3D printer for manufacturing.
The company is, at the moment at least, only available in the US, although they hope to rapidly expand overseas.  The aim is to source materials for each shoe locally, thus reducing the environmental footprint as much as possible.
Can such an approach scale?  That's the big question.  We've already seen some of the big players go down this road, with, for instance, Nike's Vapor Ultimate Cleat football boot created using 3D printing.
With that however, you still need to visit a suitably equipped store and have your feet scanned.  Feetz are the first company to offer such a service remotely.
I'm not entirely sold on the designs they currently have available, but I'm sure they will evolve over time.  It's a great concept and they'll certainly be a company to keep an eye out for over the coming months.