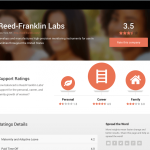 Over the years there have been a number of reports that claimed to highlight the continuing divide between men and women in the workplace, both on salary and career prospects.
Whilst such reports have no doubt helped to shine a light on such disparities, it's hard to escape the sense that due to their generic and anonymous nature, they have done little to really change matters.
It's interesting to note, therefore, a new online platform that aims to open the lid on equality in the workplace in much the way that platforms such as Glassdoor have attempted to do with other aspects of workplace life.
InHerSight follows in the footsteps of a number of platforms that aim to take users beyond the marketing spin of an organization and give you a glimpse into the reality of working life, at least that as told by current and former employees.
The platform provides anonymous reviews from current and former employees (of both sexes) so that potential employees can learn about things such as the policies in place at the organization, its culture and any other potential pitfalls.
For instance, it may help to unearth unequal pay, or a lack of representation by women at board level.  It may even reveal examples of sexual harassment, which estimates suggest is experienced by over 30 percent of women at work.
The anonymous nature of the system allows women the freedom to do so without fear of recrimination.  Users can complete an anonymous survey about their time at a company across 14 different categories, including things such as maternity leave, flexible working and female representation amongst senior management.
Holding companies to account
The hope is that by making things more transparent, it will hold organizations to account in much the same way that sites like TripAdvisor have done so for holiday destinations.
Interestingly, the site makes no claim to verify the information posted, so it appears to rely purely on the aggregated wisdom of crowds to sift out any inaccurate, or even malicious, information posted to the site.
I suppose with any platform such as this it will not be possible to verify before something goes live, so hopefully the platform will be used ethically and thus provide a valuable service to women in the workplace.