Cycling has enjoyed a real boom in London over the last few years, with an estimated 600,000 journeys made by bike each day in the city.  Such is the popularity of getting around on two wheels that junctions on the major highways traversing the city can often look like the image below, especially during peak times.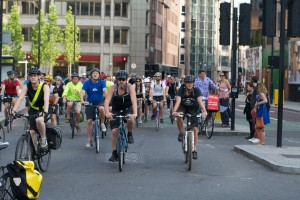 Not only is cycling a great way to see this great city, it also affords you some exercise, a satisfied eco conscience, and perhaps more importantly, the quickest way to get about the city.
It's perhaps with this speed in mind that Amsterdam based startup Tring Tring is looking to build a bicycle courier service with a difference.
Crowdsourced deliveries
I wrote a few years ago about a new service called Friendshippr, which was looking to utilize the thousands of journeys we make every day.  It would tap into our social networks and if any of our friends or contacts were going to a destination where we needed to send a package, it would help to arrange for them to take it with them.
Tring Tring aim to do a similar thing but use the army of cyclists traversing Amsterdam as their couriers.  They claim to be able to deliver your goods anywhere in the city in under an hour.
The service is open to both individuals and businesses, with €5 offered per job offered to the couriers themselves.
An interesting aspect of the service is its connection to various local retailers, so that customers can place an order via various e-commerce sites of businesses in the city, and have their package delivered via TringTring.
Whenever an order is placed, the app will notify any cyclists in the area.  If they believe they can fulfill the request in the next hour then they nominate themselves for the gig, and the details of that assignment are passed on to them, with payments processed via the app.
As a new service it's currently only operating in Beta mode, but already has around 20 retailers signed up.  It will be interesting to see how the service competes against more established cycle courier services.