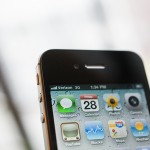 I wrote earlier in the year about a recent paper that revealed how Twitter data can provide accurate insights into the labor market.
There are a growing number of projects using social data to extrapolate trends, but there is arguably greater potential for mobile data to do a better job.
Tracking unemployment
One such project is looking to use mobile data to provide insights into employment levels.  The authors believe that our communication patterns change when we're out of work.
The focal point of the study was a manufacturing plant in Europe that closed down.  The researchers monitored the mobile usage of workers in the period after their redundancy.  It emerged that they made 51 percent fewer calls than their peers who still had work.
"Individuals who we believe to have been laid off display fewer phone calls incoming, contact fewer people each month, and the people they are contacting are different," the authors say. "People's social behavior diminishes, and that might be one of the ways layoffs have these negative consequences. It hurts the networks that might help people find the next job."
The researchers created a model from the data that they believe allows them to accurately predict changes in employment status based upon communication patterns.  Whilst you may think such predictive ability is not really needed, the authors contend that their approach provides data up to eight weeks faster than traditional methods.
"Using mobile phone data to project economic change would allow almost real-time tracking of the economy, and at very fine spatial granularities … both of which are impossible given current methods of collecting economic statistics," they reveal.
Using your phone to predict your GPA
A slightly more down to earth example of smartphone based analytics comes via the StudentLife study conducted by Dartmouth College and the University of Texas at Austin.
The project has seen the creation of the SmartGPA app that collects a whole host of data from the smartphone of users to try and predict the performance of students.
The app is tracking things such as the amount of partying done, how frequently they attend class, how regularly they study outside of class, and even things like sleep and exercise levels.
The researchers believe that they can predict the GPA score of each student to within 0.17 of a point.
The app was put through its paces, monitoring the behavior of 30 undergraduates at Dartmouth, before then applying its algorithm to predict their academic achievement.
That it was capable of doing so with considerable accuracy is a telling reflection of just how powerful such analytics can be in a whole host of areas, whether they be macro or micro level endeavors.
Whilst the unemployment predictor is designed for policy makers and their like, the SmartGPA app is designed more for use by students themselves.  It's intended to provide them with a degree of feedback as to how their behaviors might be impacting their grades.
It's a telling example of the kind of analytic based apps that are sure to hit the market in the coming years, whether that's to help students improve their grades or people to improve their health or any number of other applications.