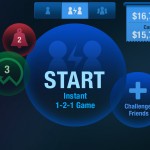 Over the past few years there have been a huge number of games that have had an educational element to them.  Many of these games have been in scientific areas, with players contributing to scientific research in some way.
There have also been a number of attempts to bring games into the workplace however.  For instance, a study from the University of California highlighted how gaming can improve the mental performance of older employees.
The use of games in a training context is therefore not a new one.  An interesting new entrant to the market is the recently launched Flick a Trade, a game designed to help players learn more about financial markets.
Teaching traders
The game places players into a realistic trading environment that can be accessed via mobile phone or tablet.
Players can trade in a range of things, including commodities, up to 75 currencies and share indices that are mirrored to live markets.  Whilst actual markets shut at the weekend, players can continue by accessing ten fantasy commodities that are powered by the games in-built algorithm.
The game has already undergone beta testing, with players generating a virtual turnover of over $400 million per day.  The aim is to create an easy to access environment to give novices exposure to financial markets.
"Flick a Trade puts real life events into a gamified format for the first time. It brings the financial market to life on your mobile or tablet and its engaging, realistic trading gameplay has had our audience gripped through beta phases," Kerem Ozelli, CEO of Reality Gaming (who created the game) says.
The game comes with a range of trading screens that aim to provide an easy to use interface for players, whilst the very game mechanics hope to provide players with a grounding in sound investing strategies.
Players can participate individually, against another player or against multiple players, thus adding a degree of competition to proceedings that may reflect what happens in trading floors around the world.
It's currently available on both Apple and Android platforms.