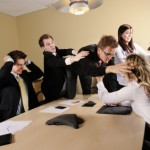 Despite tremendous attempts to build harmonious and engaging workplace cultures, it seems inevitable that there will exist a degree of conflict in any work environment.
After all, employees will have different goals and find themselves at cross purposes with their colleagues, and that's even before the inevitable clashes of personalities and values that are sure to emerge in any workplace.
It's tempting therefore to try and downplay conflict as much as possible, but a recent study suggests that if it can be harnessed, it can actually be great for enhancing innovation.
Holding a mirror up to ourselves
The paper reveals that key to conflict proving successful was the ability for employees to accurately see themselves as others do.  The authors suggest that most of us want to have friendly relationships with our peers at work, and therefore seek to overcome any potential barriers to achieving that.
This is especially important as we often derive our self-image from our relationship with those around us.  When this is out of synch, it can often prompt us to take creative steps to restore balance.
How conflict can help
The study placed participants in a situation where they recalled both a harmonious and conflictual relationship from their professional past.  Each person had to describe as best they could their feelings during these situations and how they'd tried to overcome the conflict.
After that, each person was required to complete a simple creativity test, known as the Remote Associates Test.  This is a measure of our ability to associate between typically unrelated words.  The aim was to see how the mindset invoked previously effected their creativity.
Conflict equals creativity
Interestingly, it emerged that those who had experienced conflict also scored very well on the creativity test.  The theory is that the conflict had got them into a creative mindset.
The authors found that this also applied to people that were more independent (ie they didn't view themselves via their relationships with others).  For these folks though, the conflict needed to be process orientated rather than relationship orientated.
All of which suggests that attempts to remove conflict from the workplace may actually damage your attempts to foster a creative and innovative workforce.
Suffice to say, the authors aren't advocating the creation of a purposefully terse environment, but they do advocate the creation of an environment whereby employees are aware of the differences between themselves and their colleagues.