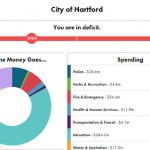 Over the past few years there has been a growing number of governments and civic institutions around the world that have opened up to give people greater involvement in how things are run.
Much of this sprang from the participative budgeting process initiated in Porte Alegre, Brazil, where citizens were given input into how the local state budget was spent.
Such projects give citizens insight into the civic budgeting process that are shut-off from many of us around the world, either because budgets aren't made available, or they're presented in an opaque way.
A Balancing Act
Balancing Act aims to change all of that.  It's an app that aims to display a city's budget in a straightforward manner, highlighting what is spent where.
What makes the app particularly interesting is its interactivity.  It doesn't just display the information for you but allows you to play around with it so you can tweak it according to your own preferences.
Of course, this isn't fantasy government, you have to keep your budget in the black, so it forces people to think about the kind of compromises our public officials must make.
The app, created by Engaged Public, is currently being put through its paces by the city of Hartford, Connecticut.  They have a strong story to tell, having faced a $49 million budget deficit this spring, and they welcomed input from citizens on how to tackle that situation.
"Balancing Act provides a way for people to both understand what public entities are doing and then to weight that against the other possible things that government can do," Chris Adams, CEO of Engaged Public says. "Especially in this era of information, all of us have a responsibility to spend a bit of time understanding how our government is spending money on our behalf."
It's hoped that by opening up the budgeting process and making it both more accessible and interactive, it will encourage greater interest in the whole affair.
"Budget information almost universally exists, but it's not in accessible formats—mostly they're in PDF files," Adams says. "So citizens are invited to pour through tens of thousands of pages of PDFs. But that really doesn't give you a high-level understanding of what's at stake in a reasonable amount of time."
Engaging with citizens
They hope to roll out the app across the US, providing officials with an easy way to check in with citizens and learn what really matters to them.  This is especially important in a modern age where press attention may distract officials from what citizens really value.
If, for instance, officials propose to reduce library coverage in an area and attract a lot of negative publicity, they may push ahead regardless if most app users agree with them.
Suffice to say, the app will never cover the whole range of inputs into the budgeting process, and will by its very nature only cover the top level items.  It also can't really consider things such as spending whatever money more efficiently or proposing new tax categories.
By making the process simple and easy to access however, it will hopefully encourage more people to get involved.  That is, after all, its primary goal rather than to get detailed public input into spending plans.
"Government is growing more aloof from residents and there is a growing distrust between people and government," Adams says. "We believe that one the best ways to rebuild that trust is to be transparent and accessible when it comes to one of the most important things a government does, which is to raise taxes and decide how to spend that money."