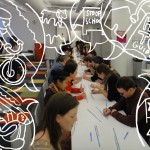 Towards the end of last year I wrote about the tremendous rise in so called social innovation labs around the world.
Social Innovation Labs are designed to bring together a diverse group of people and opinions to try and tackle some of the more challenging and complex problems we face.  They tend to do this via the creation of prototype solutions that are tested in the real world, before then being continuously improved.
Each lab tries to take a systemic approach to the task, going beyond looking at symptoms and parts to try and get to the root cause of why things are currently not working.
UNICEF guide to Social Innovation Labs
There are social innovation labs springing up all over the world, and indeed UNICEF have created their own guide on how you can go about creating your own.
The document aims to give you everything you need to setup an innovation lab, informing you of the kind of things a lab contains, the steps involved in setting up and running one, and a few case studies you can use for inspiration.  The document itself fits in with the spirit of the labs, and is designed to be built upon by practitioners from around the world, who are invited to add their own structures, documents and so on to the guide.
This is an evolving version of this Do-It-Yourself Guide—and we invite you to submit your lab structures, your documents and your knowledge to the project so that future versions can grow, learn, and build.
University of Waterloo guide
If the guide from UNICEF isn't enough of an insight into the labs, the University of Waterloo have produced their own guide recently.
The guide aims to help anyone interested in using, running or participating in a social innovation lab as part of their change making process.
It's hoped that the guide will help to support a greater sense of urgency within people who are charged with making what often seem impossible changes for a better world.
Can innovation labs make the impossible into the possible?  I suppose only time will tell, but between the Waterloo document and the UNICEF one, there should be more than enough information and guidance to get people started with the labs.