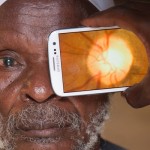 Over the last few years there has been a huge surge in the number of devices that can be attached to phones to perform various medical procedures, whether that's analyzing our breath for disease, the Cupris device for conducting ear examinations, or the D3 device that uses holographic technology to collect microscopic images for analysis of cells and tissues for cancer.
Very much in this last broad domain is a smart phone appendage that aims to make a dent in the issue of visual impairment.  It's believed that there are around 40 million people around the world that are blind, with a staggering 80 percent of that figure from avoidable causes.
Peek Vision have developed a smart phone based device that provides a portable eye examination kit that can be deployed in even the remotest of destinations.
Peek, which stands for Portable Eye Examination Kit, aims to make conducting eye tests easier and more affordable so that proper eye care is not something that is beholden on location or wealth.  The device has been undergoing testing in a variety of places, from Mali to Tanzania, India to Scotland.
It was developed by a diverse team, including engineers, ophthalmologists, software developers and designers, all of whom were united by a common desire to expand access to great quality eye care and allow healthcare workers to diagnose eye disease more effectively.
The organization has teamed up with the likes of the London School of Hygiene & Tropical Medicine and the Glasgow Centre for Ophthalmic Research in the development of Peek.
You can see the product in action in the video below, where co-founder Andrew Bastawrous demonstrates Peek at the TED conference in Vancouver.