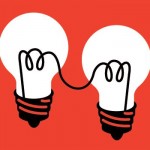 The concept of open innovation has been around for some time now, with a recent paper from Henry Chesborough suggesting that almost 80% of organizations are using it to some degree.
Suffice to say, with such extensive usage there have been some good lessons learned over the years, and some best practices that have emerged.  These have been chronicled in a recent white paper by Evalueserve, which identifies six behaviors that are crucial to success with open innovation.
Six steps to success
Set up dedicated and cross functional innovation teams – this is crucial to provide the kind of thought diversity that is often a prerequisite for innovation, both in terms of ideas and execution.  I've written before on some of the challenges in formulating these teams, which may be worth checking out.
Creating an innovation portal – the paper highlights the importance of both having a constant flow of horizon scanning type content, but also an open repository of problems that need solutions.  The best home for such information is likely to be an innovation portal.  An example of this is the recent facility created by Fujitsu.
Build an innovation network – the paper advocates building a global innovation capability, especially to take advantage of the kind of frugal innovation that is likely to emanate from emerging markets.
Digitize the new product development process – digital tools are great for both transparency and empowerment purposes, to the extent that it's hard to imagine innovation succeeding without digital backup.
Excellent feedback loops – as with any innovation process, it's crucial that things are measured and reported to determine their effectiveness.  This will help determine the return on investment, and the conversion ratio of ideas to innovations.
Developing an innovation culture – it's hard to explore innovation best practice without looking at the old chestnut of culture, and is something that has been touched on several times down the years, and indeed is something that was the focus of my book.
Overall it's an interesting report that touches on many valid issues.  Suffice to say there is never going to be a hard and fast method for achieving success, but research does suggest that many of the things identified by Evalueserve will help to boost your chances of success.  As such, it's well worth a read.