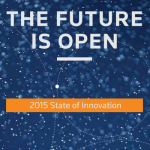 Measuring innovation can often be tricky, and so many organizations persist in measuring what they can, which often means R&D spend and patents produced.  I've written before about why I think patents are a poor proxy for innovation, with research confirming how beneficial it generally is to be open with ones intellectual property.
The latest study in this field comes from Thomson Reuters, who have produced a State of Innovation report for 2015 to coincide with the launch of a new website for innovation data.
The state of innovation
The report provides an analysis of the scientific literature and patent data from 12 distinct technology areas.  It shows that whilst patent activity remains high, the growth in invention has actually slowed considerably across the board.
"The State of Innovation offers a unique view into the business of innovation building upon our leading position as a provider of intelligent information," the authors say. "We have created this new go-to destination and credible source of comment and insight for anyone with an interest in the world of innovation."
The report looks at patent activity across a range of industries, including biotech, aerospace, oil & gas and telecoms.  The authors trawled through the last five years of patent and research data to determine both the volume of activity and who were the major producers.
Key findings
The report revealed that the number of patents produced was beginning to slow, with the last year seeing the slowest growth since 2009.  What's more, the number of scientific papers published also appeared to slow over the same period.
There was an undeniable trend towards open innovation however, with pretty much every industry veering in that direction.  The report highlights the growing number of partnerships between corporations and academia, with Samsung being a particularly strong exponent.
What's more, there seemed a considerably blurring of industry lines as people began collaborating more effectively across industry.  This was particularly so in areas such as the Internet of Things, which requires cross-industry collaboration.
"We are standing at a fascinating inflection point in the history of technological innovation," the authors say.  "The organizations in this study clearly recognize the challenges inherent in continuing to break new ground at the pace they've maintained for the last several years. They're taking clear strides, with strategies such as open innovation and aggressive expansion into new industries, to try to achieve even faster, better results."
Now, of course, it has to be said that the main metric used in the study was the production of patents, which as I said at the outset is I think a poor proxy for innovation.  As such, I don't think the volume/output is all that useful, but the trends towards both openness and greater collaboration is certainly a good indicator of how innovation is changing.
The two trends very much belong together, with openness often a prerequisite for attracting innovation partners.  It should be no surprise therefore, that this trend has emerged, and with recombination of ideas an increasing part of innovation, it is one that is likely to continue.