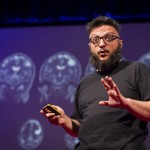 The past few years have seen a number of attempts to deploy the crowd in medicine.  This has been particularly pronounced when it comes to second opinions.
We've seen sites like CrowdMed, a site that aims to crowdsource second opinions for patients unhappy with their initial diagnosis.  The concept is a fascinating one.  You don't have to be medically trained to join the site, with the only criteria being a willingness to investigate cases.
As with many other crowd based services, users will be rated and given points through their use of the site, with more points given the better they perform.  These points act as a sort of virtual currency that can be bet on the correct diagnosis from a list of suggestions.  These bets form the basis of a prediction market, with the suggested diagnosis rising and falling in price, just like stocks on the stock exchange.
Along similar lines is the Dutch led effort Diagnose.me, which operates primarily in the field of radiology.
Or you have Figure1, which brands itself as the Instagram for health.  The service allows healthcare professionals to upload photos of a patients condition, create online discussions around the images and reference a database of past uploads.
All three services are geared towards giving the patient greater control and input into their treatment.  No longer do you have to stick with a single diagnosis, once you have the data surrounding your condition, there are a range of ways you can solicit that second opinion.
Patient empowerment
A nice example of this in action comes from Salvatore Iaconesi.  When he was diagnosed with brain cancer he decided to take an active role in his treatment.
He got hold of his brain scans and posted them online to his own website for the crowd to suggest various cures.  Some of these involved traditional medicine, some revolved around more unusual focal points.
Iaconesi talks about his experience in the TED talk below.  Whilst he is undoubtedly a pioneer, the rise of sites like Figure1 and CrowdMed highlight the growing empowerment of the patient.
In a recent speech, UK health minister Jeremy Hunt spoke about the need to make healthcare more human and to empower patients to take the lead in their own health.
Suffice to say, this isn't confined to seeking second opinions.  With wearable technology on the rise, patients increasingly have access to their own health data in a very usable form, and good health is more of a co-creation process alongside health professionals.
Whilst it remains to be seen how much of a lead the NHS can take on this, innovators like those at CrowdMed and Salvatore Iaconesi are showing what can be achieved.
Enjoy his talk and let me know your thoughts in the comments below.