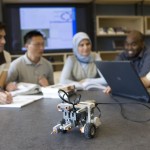 There has been a substantial shift in the way medical research is covered in recent years, both in the various attempts to disseminate research more widely, but also the drive to ensure failed trials are published as readily as successful ones.
Whilst there are significant doubts about the ability of researchers to promote their work, one relatively easy approach is to ensure that all papers are ungated.
The world's first open access medical journal
So it was interesting to see the recent launch of the Cureus Journal of Medical Science, which claims it is the first crowdsourced, open access medical journal in the world.
The journal, which is listed in PubMed Central, aims to provide a peer reviewed online medical journal that provides free and open access to data.  It encourages users to rate the quality of each article to provide a crowdsourced peer review system.
"We are extremely proud to further expand the body of scientific knowledge contained within PubMed and believe their inclusion of Cureus is a testament to the clinical value of our content," the founders said recently.
A purer form of scientific publishing
Cureus is hoping to be at the vanguard of a shift in medical publishing.  They hope to make submitting scientific data considerably easier, whilst at the same time making access to that data more affordable.
"With Cureus, financial and political obstacles have been removed from scientific publishing," they say. "Relying on an online, community crowd-sourcing model, clinicians now have equal access to publish, read and review medical research – regardless of whether they're part of a world-renowned academic institution or a rural community hospital in an emerging country. The result is better research, faster publication, and most importantly, greater access."
The platform has shifted away from Impact Factor as a means of grading an article towards a crowdsourced method called Scholarly Impact Quotient.  This will see Cureus users rate each piece, with factors such as their personal expertise and their relationship with the article then used to assign a weight to their score.
The hope is that by allowing a wide cross section of people to play a part in reviewing and rating each article, it will help the cream of science rise to the top.
Cureus clam that any author that submits their work to the platform can expect it to be indexed within a month on both PubMed and the PMC, which will hopefully further extend the reach of the work.
Of course it's unlikely that Cureus will solve this challenge on their won, and there remain a number of issues with the vitality of medical publishing, but it's an interesting approach that will certainly be worth monitoring.