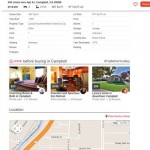 I'm sure you're all familiar with the holiday rental website Airbnb as they, along with perhaps Uber, have been the most visible success stories in the so called sharing economy.
Their meteoric rise has been well documented, with the website now listing more 'rooms' than the largest hoteliers in the world have in their inventory, with a hefty $25 billion valuation to boot.
From holidays to house buying
Whilst they have achieved this success in the standard holiday market, their recent partnership with the National Association of Realtors is an interesting move.
Now your initial thoughts here might be that people are trying out living in a property before they choose to buy it.  Well it's not quite that deep a relationship, but the partnership will see Airbnb used to promote available rental properties in the neighborhood you hope to buy in.
The hope is that this will allow buyers to test out the area and see if they can picture themselves living there before making the step and buying their chosen house.
The process is as straightforward as your usual Airbnb searches.  You hunt for properties on the Association's website or app.  When you've found one you like the look of, you're directed to the nearest available properties on Airbnb.
At the moment, the Association is running a sweepstake to encourage participation from house-hunters, with $500 on offer for each one week stay.
It's an interesting approach, but not the first time we've seen the sharing economy and real estate come together.  Last year, for instance, I wrote about the growing trend for 'human props'.
This is where people are invited to live in a house that is on the market to give it a 'lived in' look.  The only condition is that they have to be out of the house for any viewings and when the property is sold they have to move on.
The process began in Florida but is gaining traction elsewhere too.  It will be interesting to see if any other lines get blurred between the sharing economy and the real estate market.