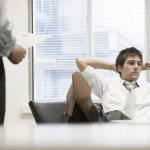 Towards the end of last year I wrote a paean to the straight man of innovation.  This is the person that does the gritty, glamorous work that is often crucial in taking a great idea to market.
Whilst the post focused primarily on the kind of folks who love the nitty gritty, a recent study from Rotman School of Management reminds us that in addition to having people who enjoy doing that stuff, we also need to give ourselves time to do it.
Using slack time
The study found that when entrepreneurs have a bit of 'slack' time in their schedule, they predominantly use that to do the less exciting tasks that are nonetheless crucial to the success of their venture.
"Slack time does something more than what we thought," the authors say. "You need a creative idea for sure, but you also need to tell people about it and you need to put some effort into raising money.  Slack time may give you the opportunity to do those mundane, execution-oriented tasks."
The focus of the study was on a number of projects that were raising funds via Kickstarter.  They found that there was a huge increase in projects posted in renowned university towns when those schools were on vacation.
Of course, the study suggests that it is only 'boring' implementation style tasks that are done during quieter times, but previous studies have highlighted the wider value of slack time.
Slack for ideas
The important role slack plays in innovation is highlighted by a study published by Aberdeen Business School.  It explores how the kind of efficiency projects of the last couple of decades may have made some short term gains, but they've done so at the expense of the kind of slack required to be innovative.
When the author interviewed a number of organizations to explore why innovation was struggling to take hold, what do you think was the main response?
"At the end of each interview I asked the interviewees what they would do first to encourage innovation in their organization if they were suddenly omnipotent.  By far the most common answer was time.
But respondents often qualified this – they didn't want more of the same kind of time, they wanted more unstructured time that did not have specific outputs or procedures attached to it.  The managing director put this very well when she yearned for 'time to play, time to gaze out of the window, time to let things settle, time to read and react," he writes.
All of which is something of a drag as we've almost been raised to think that doing this kind of thing at work is sacrilegious, that it represents loafing off and will get us into all kinds of strife.
If slack is invaluable for both ideation and implementation though, maybe it's something we should be looking to design more of into our normal work days.