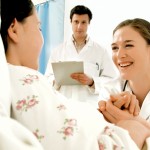 Clinical trials are one of the most crucial, yet often dysfunctional aspects of medicine.  A study from LillyCoi in 2014 found that just 16% of cancer patients were aware of clinical trials that may have benefited them, so it's great to see a number of projects emerging that aim to raise awareness of clinical trials, and  I review a few of the best ones here.
The Clinical Trial Innovation Prize aimed to improve things still further by attempting to double the accrual rate of clinical trials in the diagnosis and treatment of cancer, with Harvard based Helynex chosen as the winner.
It's an active area, with startups such as TrialReach also emerging to encourage participation in clinical trials.  They are joined by a recent Canadian based app that aims to make recruiting participants a smoother process.
Recruiting participants to clinical trials
The new app was born out of a hackathon held at the University of Toronto, where the top prize was snared.
"We've had this startup idea for a year now and have been working on it in our spare time, juggling our studies and day jobs," the developers say. "To know that our university supports and encourages this kind of forward-thinking, entrepreneurial mindset just adds to our inspiration and confidence to pursue our dreams."
After the hackathon, the team presented the project at the 2015 Intelligent Community Forum Summit, which is a global event for civic and policy chiefs.
Suffice to say, the app is at a very early stage of its development thus far, but it's promising to see another entrant into this burgeoning market.  They hope to develop their minimum viable product shortly, with the aim being to provide users with a browsable index of research in their area together with an easy means of enrolling.
They also hope to have social and gamified elements to maintain the motivation of participants.  A crowdfunding campaign is soon to be launched to help cover some of the development costs, with a launch expected for sometime this autumn.
"We're pulling out all our project management skills to get this show on the road," the developers say. "Our first app will consist of a small subset of functionality – really, just a fragment of our end-product – but it's more than enough to get users hooked."