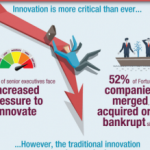 Innovation is clearly something that is incredibly important to the success of our organizations, but given the rapidly shrinking lifecycle of the average large company, it's perhaps something that few achieve particularly well.
This has led many to propose ways that we can innovate more effectively.  I touched on one such paper recently, which outlined six things organizations can do more effectively when it comes to innovation, including setting up cross functional teams and a streamlined product development process.
The role of innovation centers
A recent report from Cap Gemini and Altimeter focused on the role of innovation centers (much like this one created by Fujitsu).  The report focuses on the challenges many organizations have in getting products to market quickly enough.
As has been mentioned countless times before, they highlight a challenge in being capable of both producing efficiently and creatively at the same time.
That on its own is probably not worthy of a report by such illustrious names, so what do they propose organizations can do about it?
In short, they suggest that the creation of an innovation center that spans the organization is key, with prototypes and experiments used to find out what works before then trying to scale.
They highlight the different kinds of innovation labs, ranging from in-house teams through to innovation outposts in tech hubs via university partnerships.
The report suggests a number of benefits of having an innovation center, including:
A source of new ideas – the theory is that regular engagement with startups and academia can allow an organization to quickly build knowledge of the latest trends, and expertise in that area.  Whether one needs to be physically in such an environment over an effective horizon scanning program however, I'm not so sure.
Enhanced risk taking ability – by incubating smallscale experiments, the theory is that it encourages risks to be taken that otherwise would not be.
Talent and engagement – the authors also highlight the potential benefits, both in attracting talented individuals with your entrepreneurial'ness, and also in engaging existing staff by being/appearing cutting edge
Most investment in innovation centers is seeming to come from the manufacturing sector at the moment, with Silicon Valley undoubtedly the global home of such facilities.  The valley is home to more facilities than pretty much the rest of the world combined.
As you would expect, the report concludes with a number of recommendations for the creation of a successful innovation lab.  Whilst many of these seem perfectly sensible, given the nascent nature of such facilities, there is probably insufficient evidence to really say with any certainty what kind of factors underpin success.
It will be a fascinating area to monitor however, and the report provides a decent overview of progress thus far.