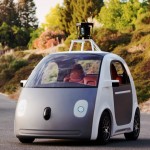 Uber rarely seem to hit the headlines for anything but negative reasons these days, so it's nice to see that they've embarked on a new partnership with the University of Arizona that could have some sizable benefits for society.
The partnership will see Uber work with the university on mapping and safety based technology, and it follows how on the heals of the creation of a research lab earlier this year in Pittsburgh to work on driverless technology.
It would appear that the university's College of Optical sciences have a strong expertise in the area, and have expressed a willingness to license that technology for third parties to work with.
Making better scanners
They are especially working on making better, smaller and cheaper versions of the laser scanners that usually sit atop of driverless cars.  The scanners are used to ensure the cars know where they are, and where objects around them are.
Existing devices use spinning parts to send laser beams into their environment.  They tend to be pretty expensive and cost upwards of ten thousand dollars.
The Arizona team's approach uses a different approach to manage its laser beams, and the team claim that, as a result, they are much cheaper.
"The promise of autonomous vehicles will need to utilize less complex and costly systems to become practical," they say.
Driverless crash trucks
Another interesting example of partnerships between university and industry in driverless technology comes via the heavy duty world of construction.
In construction, when you have roving crews painting the road or various other tasks, they're often protected by a crash truck that's fitted with a barrier to protect the workmen from oncoming traffic.
Suffice to say, whilst the trucks protect the workers behind them, they inevitably place the driver in harms way, so experiments are underway with driverless crash trucks.
The project, which is run by the Department of Transportation in Florida, Royal Truck company and researchers at Texas A&M, hopes to significantly improve the safety of such work through automated means.
"Connected and autonomous vehicles in general are viewed as the future of surface transportation, and this technology may be one of the first ways in which it gets commercialized," researchers say.
Royal are the biggest manufacturer of truck-mounted attenuators, and they put on a demonstration of the device recently.  It saw the crash truck follow a lead truck around a car park in perfect harmony.
You can see a video of the demonstration below.