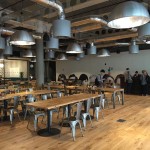 Co-working spaces are undoubtedly hot stuff at the moment, and I looked at some of the things that I believed the sector could be doing more of to better support the business ecosystem.
This was based on various studies exploring just what it was that startups needed, including managerial support/mentoring, financial assistance and even assistance in connecting the dots between what they and others are doing.
Recently I had a look around the wonderful WeWork office at Moorgate and the facilities on offer to startups are indeed impressive.  They have all of the facilities you could want in an office space, and there was undoubtedly a buzz about the place as startups of various types worked and played together, all the while the facilities staff were preparing for an event in the evening sponsored by Virgin.
Whilst the number of startups in residence was undoubtedly impressive however, there was a conspicuous absence of anyone from academia.
The state of the relationship
I was told of the numerous high tech companies that were looking to partner with the space and allow their employees to bask in the serendipitous glow of the startup world.  Which is great, but no universities were there, which seemed a bit of a waste.
Earlier this year the Dowling Review looked into the current state of relations between universities and business and found there to be something of a shortfall.
The report, which built on previous works such as the NCUB's State of the Relationship, revealed that there should be much more cross fertilization between university and business, both at senior academic level but also amongst students.
Getting talent
A study published earlier this year in Science revealed the attractiveness of working with a start-up amongst PhD students.  It found that students were keener to join existing start-ups than they were to undertake any other career choice, including starting their own business or continuing in academia.
This pipeline isn't often as functioning as it might be.  For instance, a recent Australian study highlighted the challenge, with the authors finding that the number of students heading to small enterprises was significantly lower than in the United States.
Missed opportunities
The potential for business was underlined by a recent collaboration between students at Imperial College and finance company Rangewell.
The project saw students create what is thought to be the first map of the commercial finance landscape in Britain.
"Our project with Rangewell is the first time the increasingly fragmented and opaque business finance landscape has been mapped through a fully independent and data driven approach in the UK. We are proud that the work we have carried out has revolutionised and simplified the way that businesses and their advisors can compare and apply for business finance products and is now used by professional advisors and their clients across the UK," David Lask Pedroza, one of the students on the project said.
Such collaborations require much better links between small business and academia however, and reaching out to hubs containing thousands of entrepreneurs seems a good way to achieve that.
"Collaboration is a contact sport, so shared physical spaces can be incredibly valuable for providing an environment to stimulate and support collaborations. Co-location of academics and industrialists can generate a vibrant environment that fosters knowledge creation and technology transfer, and collaborative work is often at its most effective when people are able to work side-by-side, with a free flow of ideas," the Dowling Review says.
Maybe it's a case of watching this space.