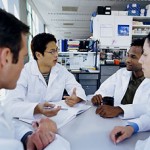 I've written a few times about the growing trend for opening up the research process.  Whilst the corporate world has embraced open innovation all the way from generating new ideas to the implementation of those, the academic world has been a bit more limited to making publications more open.
A new journal, called Research Ideas and Outcomes (RIO) aims to change all of that.  It's looking for ideas that you would like to see studied, together with your methods, workflows, data and reports.
"We're interested in making the full process of science open," the RIO team say. "Many good research proposals fall by the wayside because funding agencies have limited budgets, RIO is a way to give them another chance."
Making research more transparent
In addition to allowing people to submit research ideas, it's also hoped that the project will act as a hunting ground for funders looking for interesting projects to back.
The major hurdle to overcome, of course, is encouraging researchers to open up with their research ideas and run the risk of other people running with them.  With research still appearing to be competitive rather than collaborative, it's no small barrier to overcome.
I have written previously, however, about the virtue of sharing ones ideas, and how it benefits us rather than harms us, so I am fairly optimistic on that front.
What is perhaps a little more concerning is the reputation side of the journal.  They're operating an optional peer review based approach, with papers published almost immediately having undergone some rudimentary technical checks to ensure the papers aren't spoofs or unethical in some way.
For most papers, traditional peer review will be an optional process that will incur an additional fee.  Given the recent finding that just 1/3 of psychological studies could be replicated, it's a reputational hurdle that is perhaps not needed.
Whether the journal survives or not is hard to predict, but it's fascinating to see innovation in what is a very traditional field.  I wrote recently about Cureus, which brands itself as a crowdsourced medical journal.
The journal, which is listed in PubMed Central, aims to provide a peer reviewed online medical journal that provides free and open access to data.  It encourages users to rate the quality of each article to provide a crowdsourced peer review system.
"We are extremely proud to further expand the body of scientific knowledge contained within PubMed and believe their inclusion of Cureus is a testament to the clinical value of our content," the founders said recently.
It's an area that will hopefully see some winning approaches emerge that help to make research more effective, transparent and accessible.