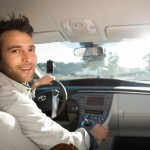 There has been a tremendous growth in tools to help people learn foreign languages in recent years, with many taking a crowd based approach to the task.
One of the more innovative is undoubtedly Duolingo, the company started by Luis von Ahn, the founder of CAPTCHA.  They use many of the techniques used in the CAPTCHA system, but rather than digitizing books (as with reCAPTCHA), people are learning a new language.
They recently announced plans to offer a new testing system that will allow users to gain a quick snapshot of how they're performing in their studies.
Testing the language skills of drivers
Arguably more interesting however, was their announcement of a partnership with the controversial sharing economy bad boy Uber.
The partnership will enable users of the site in Colombia to understand whether the drivers they use are fluent in English or not.  Drivers will be able to use the Duolingo testing system, and the certification will be added to their Uber profile.
It's believed that around 60 drivers have already gone through the program, with another 1,000 or so due to take the test in the coming weeks.
It will allow passengers to specifically request an UberEnglish driver, in much the same way that passengers in Shanghai have been able to for a few months.
The aim is to provide foreign visitors to the country with another layer of security and self confidence in the safety of the service.
If the scheme goes well then Uber hope to roll it out across Latin America later this year.  Would the English skills of a driver be a valuable piece of information when using Uber abroad?  Let me know in the comments.