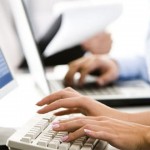 As the MOOC movement has matured, there has been a growing desire to understand their effectiveness and assess whether changes are required to improve it.  For instance, last year a study suggested that much needs to be done to improve drop out rates and the various other flaws discovered in the MOOC process.
A later study, from researchers at MIT, suggested improvements had been made, with various innovations emerging in the industry.
A change in pedagogy
A recent paper suggests however that at the heart of the MOOC problem is the very way that they approach teaching.
The authors believe that the passive nature of MOOCs is often detrimental to the effectiveness of them, and that a more interactive approach would work much better.
A six times improvement
The research forms part of Carnegie Mellon's Simon Initiative, which aims to improve learning outcomes by improving the science behind education.  Their approach utilizes the interactive method of learning pioneered by the university's Open Learning Initiative (OLI).
"Learning by doing gives students deliberative practice opportunities to address a course's objectives," the authors say. "With OLI, students get immediate feedback. If they do not master a concept, they have to go back to re-watch or re-read and then demonstrate they have learned before they are able to move on."
The authors specifically wanted to test whether OLI courses provide a better outcome than traditional MOOCs.  They compared students on a psychology as a science class, with some taking the class in MOOC only form, with others combining the MOOC with a OLI course.
The students were tested throughout and then examined at the end of the eleven week course to gage their progress.
MOOC vs OLI
When the scores in the final exam were analyzed, the MOOC only students scored an average of 57%.  This compared to an average of 66% in the MOOC/OLI students.
The authors then set out to explore why that was.  They analyzed the behaviors of each student to try and determine any patterns.  They found that whilst doing more, whether it was watching or reading, was generally linked to higher performances, the amount of learning associated with each activity done was six times greater than for each video watched or page read.
"Most of MOOCs' attention has been on scaling teaching – making lectures available to more people," the authors say. "This study shows that students can be better served if educators and course creators focus on what we can scale – learning. More attention needs to be placed on designing, developing and improving the learning experience in online courses – with a focus on learning by doing that is well-aligned with outcomes and assessments."
What's more, this combined approach also seemed to make a difference to retention rates, with students 30% more likely to complete their course if they were using the combined approach than a MOOC only approach.
All of which is food for thought for the MOOC platforms, and the universities that populate them with content.