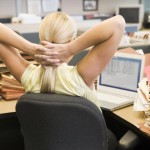 A study from earlier this year had some bad news for all of us whose work is largely of the sedentary variety.  It proclaimed that sitting for prolonged periods each day was as bad for our health as smoking.
It was a fillip for walking desk vendors, but a second study from researchers at UCL and the University of Leeds, suggests that even whilst we're slumped at our desks, there are things we can do to offset the health risks of sitting.
The power of fidgeting
The paper, which was published in the American Journal of Preventive Medicine, revealed that the negative health effects associated with prolonged sitting was only evident in those of us who rarely fidget.
The data for the study came from the University of Leeds' UK Women's Cohort Study, which is believed to be one of the largest studies of diet and health in the country.
"While further research is needed, the findings raise questions about whether the negative associations with fidgeting, such as rudeness or lack of concentration, should persist if such simple movements are beneficial for our health," the authors say.
The study is important because modern lifestyles often see even those who do a lot of physical activity sitting down for large portions of their day.
Such behaviors can be damaging to our health, even if we do a lot of exercise outside of our work.  Whilst there have been studies conducted previously into the impact breaks have on our health (a good impact), little is known about the role fidgeting plays.
With over 30,000 people included in the study, the authors believe that their findings offer a robust rationale for doing some movement at work, even if it is only fidgeting.
"Our results support the suggestion that it's best to avoid sitting still for long periods of time, and even fidgeting may offer enough of a break to make a difference," the authors conclude.