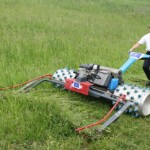 As innovation has become something concerning all industries, there has been a growing appreciation of the need to make it easier to bring together both the latest thinking and research in a topic, and the people undertaking that work.
The Future Today, for instance, is a new platform designed to bring together the latest thinkers and thinking in the accounting profession.
Innovation in farming
Nowhere is this more so than in the farming industry.  I've already covered the application of things such as crowdfunding, supply chain simplification, drones, vertical farming and wearable technology.
Suffice to say, keeping on top of the latest trends in the sector can be a challenge, hence a consortium led by the Soil Association has set out to make things better.
The Innovative Farmers network aims to match up innovative farmers in the UK with the finest agricultural research teams.
The project was born out of several years experience with the Duchy Future Farming Programme, which allows farmers to participate in practical field labs on around 35 different topics.
The Innovative Farmers network will aim to build on this by adding a wider range of participants from both industry and academia.  Add in some extra funding and an easy to use web portal and it's hoped that it will invigorate innovation in the sector.
How it works
First of all, farmers get together in small groups where they can experiment and test new tools and techniques
These groups are paired up by an experienced co-ordinator to an expert researcher in the field they wish to experiment in.  The co-ordinator will also help to locate and secure any research funding available in that area
The co-ordinator then curates and shares the learning from those field trials to help the knowledge disseminate throughout the wider farming community
The network will be seeded with £800,000 in small grants that will help develop the field trials between researchers and farmers.  This amounts to approximately £10,000 per project, which together with the expert support will hopefully ensure some strong trials are undertaken.
It's a nice concept, and one that has already achieved a good degree of success.  Roughly 90% of the farmers that have already engaged with the field labs learnt from the experience, with over half revealing that their farms improved as a result of the process.
Something to certainly check out if you're in the food and farming industry.