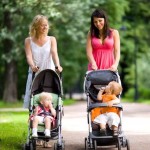 Over the years there has been a growing cohort of projects that offer regular citizens the chance to contribute towards scientific work.  As citizen science has grown as a discipline, various studies have set out to understand more about participants, including who they are and what motivates them.
Traditionally, they have been fans of the subject who participate to fulfill a passion.  They are also nearly exclusively adult.  A recent Canadian based project may be about to change that.
The project, called Inhale, wants to get kids, and their parents, signed up to act as environmental monitors.  The concept is a simple one, and will certainly be familiar to the many of us who are prone to use wearable devices to track our activity levels.
Mobile environment monitors
Volunteers agree to attach air quality monitors to the buggies and prams used to ferry their children about.  The aim is for street by street measurements to be provided of air pollution levels.
The devices are capable of capturing particulate levels in the air, map where the readings come from, and then produce a heatmap that is viewable online.
The project, which is a collaboration between the Toronto Environmental Alliance and Environment Hamilton is also available for things such as bike handlebars.
"Identifying neighbourhood 'hot spots' for air particulate pollution is an important first step in sparking community dialogue around neighbourhood-level solutions designed to improve air quality and ultimately, quality of life," the team say.
It's a nice project, and whilst it is currently limited to Canada, it seems the kind of effort that could be rolled out to other areas relatively easily.