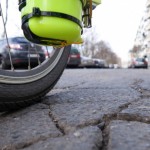 Earlier this year I wrote about a new project between Jaguar Land Rover and Coventry council in the UK whereby cars from JLR would be fitted with sensors that could automatically detect potholes in the road and then send that data to the council to prompt them to fix the problem.
When you're in a large SUV I suspect the problems posed by potholes are somewhat less than they are on a bicycle, and we've seen attempts to provide technology that can alert cyclists to potholes in the road.
Whilst Byxee was capable of highlighting potholes in the road ahead, it wasn't capable of performing the more useful function of telling authorities about such poor road surfaces.
Enter auto complain
A new solution, called Auto-Complain, has recently emerged from Germany to offer just that.  The system, which was created by German designer Florian Born, is a smartphone app that monitors the motion of the bike.  If you encounter a pothole in the road, it automatically sends a notification to a digital archive that can then be sent to authorities.
How it works
Users activate the app as they're riding their bike, and it will then capture any potholes that the user rides through.  It will record the location and the intensity of the bump before sending the data to an online repository.
This will then allow the user to download their file in PDF format and send it to the suitable authorities.  The hope is that it will make reporting potholes that bit easier, although of course if the process falls outside of the usual procedures set up by the authorities to track potholes, it may not be that beneficial.
The service also comes with a spraying device that can be attached to the bike to leave a visible mark on the road whenever you ride over a pothole.  It's designed to both alert other users but also the authorities.  How this will work if hundreds of cyclists leave their 'mark' on the road is not entirely clear.
Potholes are undoubtedly a nuisance, but I'm not entirely convinced this is the solution to them.  Time will tell however.  Check out the video below for more information.