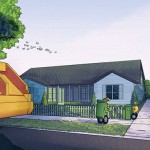 There has often been a disconnect between the kind of robots depicted in popular culture with the kind of robots that have gained traction in modern life.  For instance, the robot used in the Hollywood blockbuster Wall-E has more in common with ET than most robots in action today.
At least, that is until a recent collaboration between Volvo Group and universities in Sweden and the United States.  They have developed a robot that they plan to put to use making our streets and neighborhoods cleaner.
Keeping streets clean
The project known as ROAR (or robot-based autonomous refuse handling) is the work of Chalmers University of Technology and Mälardalen University in Sweden, Penn State University in the United States, and the waste recycling company Renova.  They have developed a robot capable of interacting with the refuse truck, and its driver.
The robot interacts with the operating system inside the truck and is capable of collecting bins from the street, delivering them to the truck and then depositing the contents inside the vehicle.
The whole process will be supervised by the driver of the truck, with the aim being to remove the need for heavy lifting from refuse collectors.
The project team believe that ROAR ably demonstrates how smart robots can increasingly perform some of the tasks that we don't wish to perform ourselves.
It also provides an insight into the kind of tasks that may become automated in the near future.
"Within Volvo Group we foresee a future with more automation," says Per-Lage Götvall, project leader for the Volvo Group. "This project provides a way to stretch the imagination and test new concepts to shape transport solutions for tomorrow."
The project team will continue developing the prototype further, before it is hopefully deployed on a vehicle designed by Renova in the summer of 2016.