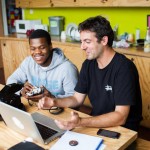 Over the past few years there have been a number of platforms emerge to try and provide those from disadvantaged backgrounds with a helping hand.
For instance, Common Cause are a UK based charity that wants to create a bridge between people from disadvantaged backgrounds and people who want to support them.
The aim is that people can connect directly up with enthusiastic entrepreneurs and lend their support, whether financially or otherwise, to their micro-enterprises.
The site works purely with youngsters aged between 18-30 who are from low-income areas or have experienced some kind of hardship in their life, such as homelessness or domestic violence.
Mentoring disadvantaged youngsters
Along similar lines is another British based project that aims to provide students from poorer backgrounds with the help and support they need to break into the creative industry.
The venture, called Pitch It is a social enterprise that has a pool of industry professionals who are looking to hone their own managerial skills by taking on a mentoring role.
The project launched last summer, with the pilot matching up professionals from the studios at Netil360 with local youngsters who hoped to get into creative sectors.
The project sees students and mentors work together on a variety of skills, whether it's gaining work experience or helping to get a foot in the door.  Mentoring sessions are conducted on a weekly basis with an event held at the end of the experience for students to pitch themselves and celebrate their achievements.
Scaling up
Professionals can get involved through their employer, who pay £200 to enrol their staff onto the scheme.  The employee is then matched up with a 16-24 year old person to mentor them over a prolonged period.
The initiative was founded by Isabel Farchy, a Teach First Ambassador, and Louise Wellby, from Eat Work Art.  They work with professionals from a range of creative disciplines, including film, advertising, marketing, design and music.
The students are typically recruited after a personal meeting with the team to try and ensure that the experience is as beneficial to them as possible.
Check out their promo video below for more information.