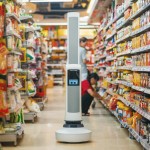 I wrote recently about a new delivery robot being developed by the team behind Skype.  The automated device will trundle along pavements doing the 'last mile' delivery of produce to customer.
It's increasingly likely that larger chunks of the process will be automated however, with the stock control aspect foremost among them.
A new shelf-scanning robot from Simbe Robotics aims to automate some of the more routine aspects of stock management.
Introducing Tally
The device, called Tally, trundles along the aisles of a store or storeroom and automatically records the shelves that need to be restocked.
The process of restocking shelves is a pretty straightforward one, but doing it efficiently is hugely important for retailers.  Huge sums can be lost if it's done poorly, and the process can take up huge chunks of time in each store.
The makers already believe the robot is capable of functioning well in a small store, and can scan the contents in around an hour.  They suggest a larger store might require a fleet of robots to ensure efficient operations.
How it works
Tally trundles around the store automatically checking the shelves as it goes.  It's looking to see whether stock levels are running low or even whether the items are correctly placed on shelves or priced up accordingly.
It does this via four cameras that are capable of scanning the shelves from either side, with vision from ground level up to eight feet.
The device is supported by the excellent data most stores have regarding their layout and the display of products on those shelves.  This data is fed into a map that Tally uses to navigate the store, and understand what items are on what shelf.
It uses this retail planogram to compare what should be where, to what is actually on the shelves, with all of the data collected sent back to a server for analysis by the retailer.
The future of retail
Suffice to say, the team at Simbe have grand ambitions for retail, with Tally merely the first of a team of robots that have the potential to automate large chunks of retailing.
"Our primary vision is automating retail," they say. "We think there's a huge opportunity to automate mundane tasks, to free people up to focus on customer service."
Of course, the technology is still relatively untested so the Simbe team are a long way from their ultimate goal, but it's an interesting insight into the range of things robots are capable of.  Check out Tally in action via the video below.