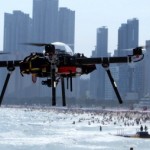 Last year I looked at a social media based campaign to better alert surfers to sharks swimming in popular areas.
The nonprofit group Surf Life Saving Western Australia have attached tracking devices to known local sharks.  The devices are designed to send out a warning message via Twitter whenever they come within a certain distance of the beach.
Drone monitoring
Now, a new project in New South Wales, is attempting to use drones to perform a similar level of monitoring.
The state is trialling the new solution in Coffs Harbour after 13 attacks by sharks have been recorded in the past year.
"There is no easy way to reduce risks for swimmers and surfers," New South Wales Primary Industries Minister Niall Blair said in a statement.
"We are delivering on a commitment to test the best science available, including new technologies, as we try to find an effective long-term solution to keep our beaches safe."
Automated lifeguards
The drones will be fitted with cameras and feed live images back to the operators on land.  The images will be accompanied by GPS coordinates to help identify sharks in the vicinity.
The drones are believed to be one of several different approaches to becoming better informed of the shark movements in the area.  Other approaches include a smart drum line that catches sharks that can then be released by the alerted authorities.
There will also be an increase in traditional helicopter surveillance in the state as part of a $11.6 million strategy to try and improve safety on the beaches.  This includes the construction of two listening stations in the north-east of the coast to track the real time data of sharks that have been tagged.