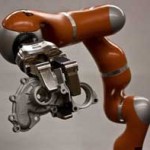 Towards the end of last year I looked at a trial being undertaken by a number of American utility companies to use drones as part of their maintenance programs.
Such automated testing and maintenance are not only cheaper to conduct but also considerably safer than using human personnel in what is often a very dangerous environment.
The potential for this kind of automated monitoring was highlighted in a recently published paper by the National Institute of Standards and Technology (NIST).
Robotic maintenance
The robotic arm will be used to measure the properties of the kind of antennas used in advanced communications, weather monitoring, remote sensing and various other applications.
"We designed this system to address a need in the antenna community for high-precision and configurable scanning at short, millimeter wavelengths," the authors say. "Past systems haven't been as complete as they need to be. The robot allows us to explore many ways of doing measurements. There's a lot of configurability and an extremely high level of repeatability."
Near field scanning
The new machine is an advancement of the near-field scanning technique that NIST pioneered in the 1970s.  This uses a range of mathematical models to determine the various properties and performance of the antenna.
The near-field scanning approach offers researchers the ability to assess the gain of the antenna (the strength of the transmission), the polarization and the pattern.
The robot is capable of twisting into a range of positions thanks to its six axis.  It can measure the properties of an antenna up to 2 meters in diameter, whilst a laser tracker monitors and records these positions.
The robot will initially measure frequencies ranging from 100 gigahertz (GHz) to 300 GHz, before eventually progressing up to > 500 GHz.
These high frequencies are used in many more recent applications because they provide better spatial resolution and higher data rates.  Being able to accurately measure such antennas is therefore crucial for accurate weather and climate prediction.
With drones already under way, and the NIST robot monitors soon to reach the market, it seems that automation is going to be hitting another market before too long.